Welcome to Motosumi-Bremen str. Shopping District!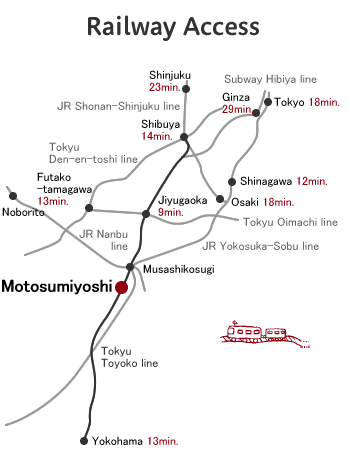 Motosumi Bremen str. Shopping District located in the Western side of the Tokyu-Toyoko-Line Motosumiyoshi Station, which is in Nakahara Ward of the Kawasaki City. Our Shopping District has it's passers-by at a rough estimate 14,000 to 20,000 a day, and we're known as a leading Shopping District also in the Kawasaki City.
Presently, Nakahara Ward has a population of 190,000, and concentrated the center of administration on a Kosugi area which it adjoins.
Because of the station "Motosumiyoshi" of the Tokyu Toyoko Line, Motosumiyoshi area has become very prosperous recently, and Motosumi-Bremen street shopping district located in front of the station.
Motosumiyoshi station is located conveniently close to 20min. from Shibuya and Yokohama, 40min. from Ginza with the subway Tokyo Metro Hibiya Line.
History of Motosumi-Bremen str. Shopping District
Sustainability Projects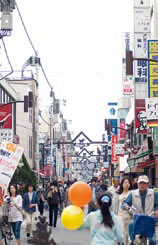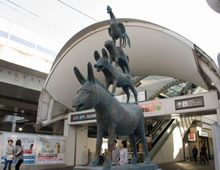 International Relationship
Since 1988, we named our district as Bremenstr.. In the name of "Bremen" we had an opportunity to conclude international interchange with Lloyd Passage of Bremen in Germany. Here we'll tell you the states of our international interchange, and some information about Bremen.
Amicable cooperation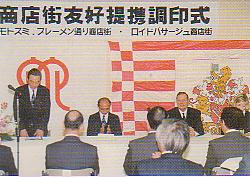 In March 1991, Bremenstr. Shopping District conclude amicable international interchange with Bremen Lloyd Passage Germany.
Motosumi Bremenstr.. We sell Bremen's white wine from Rheinhessen districts in the liquor shop. As for this wine, hat the mello aroma and elegant sweetness.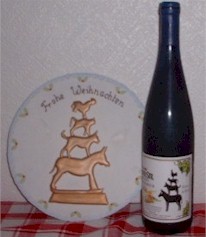 Lloyd Passage
The Lloyd Passage Shopping Center has been located at the backstreet of Karlstadt department store in the historical city, Hansa-Union-Bremen. We dare say the name "Lloyd" has been taken from famous shipping agency called "Lloyd Co." and it's President Mr. Lloyd, because his residents were there in Bremen.

City of Bremen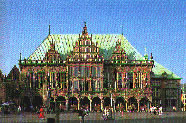 If you mention a single example for Bremen, it's famous with the Bremen Band. The Statue of Bremen Band places the side of the Bremen's city government hall.
We import ecology bags.
In June 1995, we the Motosumi Bremenstr. Shopping District declared " Shopping District where gentle for Environment " and praises bringing customer's own shopping bags.
As a part of our environment preservation, we start to import ecology bags from Germany and sell them.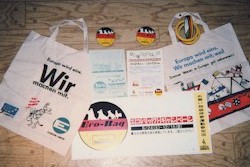 International Symposium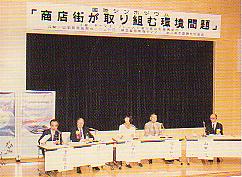 In September 1995, we invited debaters from Germany and had International Symposium focused on "What can Shopping District do for Environmental Problems" simultaneous interpretation in German and Japanese atKawasaki International Interchange Cente.
Statue of "Bremen Band"
In September 1998, Lloyd Passage and the city of Bremen donated us "the Statue of Bremen Band". Nowadays "the Statue of Bremen Band" is installed in front of Bremenstr.'s Community Center as lovable symbol of our town. On 15th march 1998, our union officials visited it's maker's atelier in the suburbs of Bremen. The person who stands the center of the photo below is it's artist Ms.Kirsten Brunjes.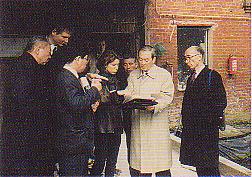 On 23 September 1998, we invited a chairman of the Lloyd Passage Mr. Gunter Kirsch, and an ex-chairman Mr. Blumenberg to the "8th Bremen Music Festival" and held the Statue of Bremen Band's an unveiling ceremony with Kawasaki's Mayor Mr. Kiyoshi Takahashi (in those days) and us.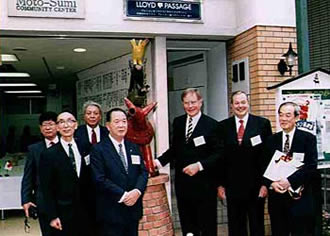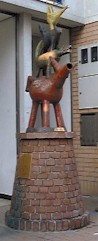 Other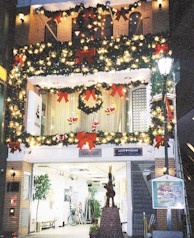 In December 1999, Lloyd Passage offered the proposals for Motosumi Community Center had decorated with marvelous Christmas illumination, and held magnificent Christmas event.
In May 2000, for the cerebration for Lloyd Passage's 10th anniversary, we send gigantic Hanten (Japanese traditional costume for festival) to hang them from the ceiling of the arcade and union officials paid a courtesy visit with the message from the Mayor of Kawasaki city.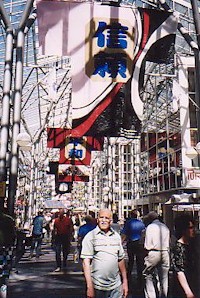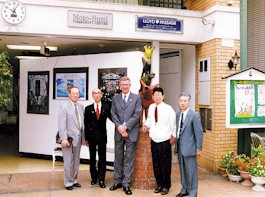 In September 2000, president of the Lloyd Passage Mr.Peter Schneider visited Motosumi Bremenstr. to observe "9th Bremen Music Festival".
In August 2001, we imported new designed ecology bags from Bremen. It costs 250yen.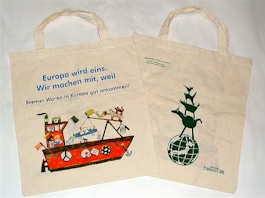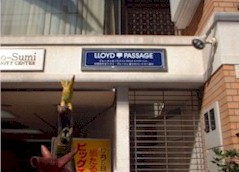 In August 2001, President of the Lloyd Passage visited Motosumi Bremenstr. Shopping District for our 10th friendship anniversary's event.